Cardi B Slams Jussie Smollett Over Claims He Staged Attack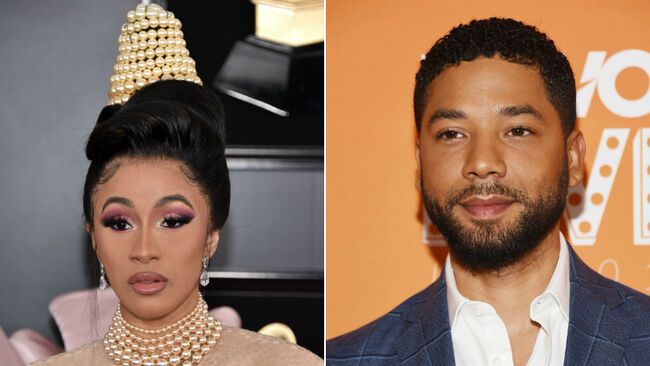 Cardi B is not too happy with Jussie Smollett.
While on Instagram Live over the weekend, the "Money" rapper addressed claims the Empire star faked his January "attack."
"I'm really disappointed in Jussie Smollett," Cardi began. "I feel like he f**ked up Black History Month, bro." However, before going too hard on Jussie, Cardi said she's still waiting for all of the facts to be released before completely canceling him. "Until he says out his mouth that this was fake and this sh*t was staged, I don't want to completely blame him. Because like somebody that I was talking to said, police in Chicago are racist so they might try to frame him and make him look like he's a liar," she said. "But if he's not, then bro you f**ked up for real. Like, why would you do that? you ain't had to do that."
The 26-year-old rapper then recalled her own alleged encounter with police, in which she claimed she was made to look like a liar, before adding a few more words about Jussie. "I want to see what else. I want to see. I want to know because if he did that, he really f**ked up, bro, because it's February. You have so many people standing for you," she shared. "Why would you do that, bro? Is attention that necessary for y'all nowadays?"
As previously reported, the Chicago Police Department now believes Jussie paid two men— brothers Ola and Abel Osundairo— to orchestrate the attack on him last month. On Saturday (February 16), two police officers told CNN that Olabinjo and Abimbola are cooperating with law enforcement after reportedly providing evidence Jussie paid them to attack him. "We can confirm that the information received from the individuals questioned by police earlier in the Empire case has, in fact, shifted the trajectory of the investigation," Chicago Police spokesman Anthony Guglielmi said in a statement provided toThe Hollywood Reporter. He also tweeted, "While we are not in a position to confirm, deny or comment on the validity of what's been unofficially released, there are some developments in this investigation and detectives have some follow-ups to complete which include speaking to the individual who reported the incident."
Jussie and his lawyers— Todd S. Pugh and Victor P. Henderson — however, have denied he had any role in his attack. "As a victim of a hate crime who has cooperated with the police investigation, Jussie Smollett is angered and devastated by recent reports that the perpetrators are individuals he is familiar with," the actor's team said in a statement. "He has now been further victimized by claims attributed to these alleged perpetrators that Jussie played a role in his own attack. Nothing is further from the truth and anyone claiming otherwise is lying."
The Empire star claimed he was assaulted in Chicago around 2 AM on January 29 by two men wearing ski masks. He said he had just arrived in the city from New York and made a late-night run to a Subway when someone yelled: "Aren't you that f**got 'Empire' n**ga?" He claimed, the two attackers then proceeded to jump him. While Jussie said he fought back, he was ultimately overtaken by the men. Jussie additionally claimed that the suspects put a rope around his neck and poured bleach on him during the attack.
Photo: Getty Images