Julia Michaels & Niall Horan Perform Romantic TV Debut Of 'What A Time'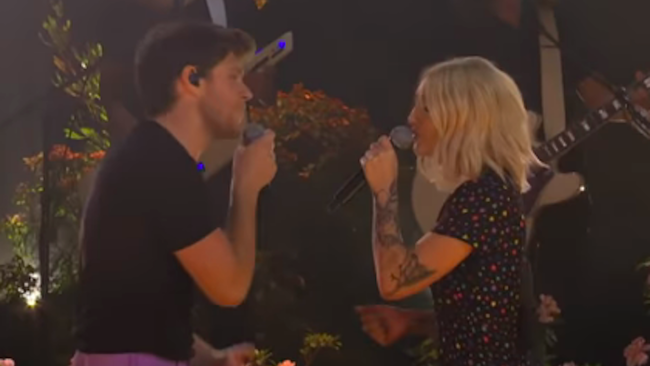 Julia Michaels and Niall Horan performed their emotional collaboration "What a Time" on live television for the first time.
The singers appeared as musical guests on Monday night's (February 18) episode of The Late Late Show to celebrate their duet's small screen premiere with an intimate, theatrical display.
The presentation starts off with Michaels resting lonesomely on a park bench in a garden setting as she sings of the old times shared with a former flame. Horan emerges from the crowd to join her in singing the post-breakup record, both locking eyes throughout their set and reminiscing on what used to be a profound relationship. Although the artists were never an actual couple in real life, you wouldn't know it by the heartfelt showcase they put on last night.
"What a Time" comes from the songstress' latest EP, Inner Monologue Part 1, which released January 25. The six-track record also features tunes titled "Deep," "Apple," "Into You," "Happy," and another duet with pop star Selena Gomez called "Anxiety." Additionally, the 25-year-old is expected to tour in the second quarter of 2019 to support the release of her project. (See the dates here.)
Watch Michaels and Horan perform "What a Time" on The Late Late Show below.
Photo: YouTube/The Late Late Show