DJ Snake's 'Taki Taki' With Selena Gomez, Cardi B & Ozuna Due September 28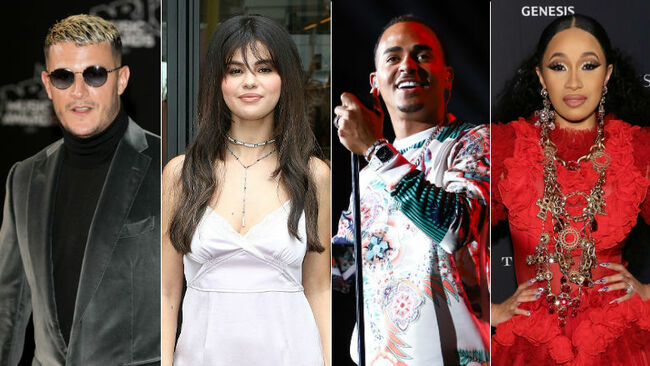 After all their social media teasing, DJ Snake's star-studded collab, "Taki Taki," featuring Selena Gomez, Cardi B, and Ozuna finally has a release date of September 28, as per a new social media message.
On Monday (September 17), the famed hitmaker took to Instagram to unveil the news with the artwork for the track, which features a photo of an explosive volcano and their names plastered over the rupture. "Taki Taki" is said to be the "biggest record in the world," as per Snake himself, but only a few details about the collab have surfaced. First up, Gomez is said to sing in both English and Spanish on the track, as well as provide some choreography in the accompanying music video, which was shot in Los Angeles in late August. Meanwhile, a volcano is reported to be featured in the clip, pairing nicely with the quartet's all-red wardrobe.
DJ Snake's "Taki Taki" will serve as a convenient release to help sway the negative press that Cardi B has received in recent weeks since escalating her feud with Nicki Minaj at the Harper's Bazaar ICONS Fashion Week party. Most recently, the rapper was hit with some backlash after a transphobic meme was shared on her Facebook account. "It's come to my attention that there have been offensive posts made on what used to be my Facebook page," she wrote hours after the meme was shared. "For the past year and a half a FORMER team member has been the only one with access to the account."

Evolution w/ Pete Tong
Want to know more about Evolution w/ Pete Tong? Get their official bio, social pages & articles on Evolution!
Read more