Ariana Grande Just Matched A Record Last Achieved By The Beatles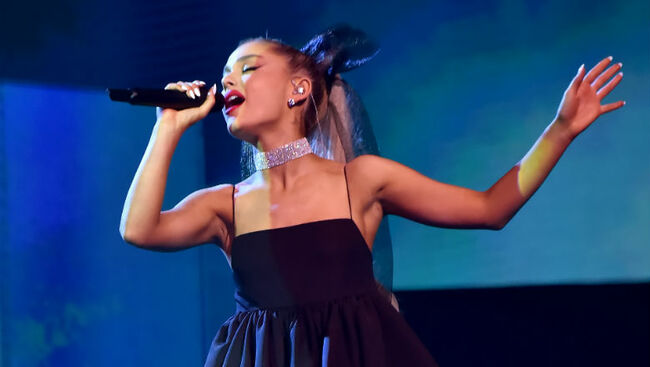 There is no stopping Ariana Grande and the newest edition of the Billboard Hot 100 chart is proof of her wildly dominate takeover.
On Tuesday (February 19), Billboard reported that the pop titan has become the first artist to hold the No. 1, 2 and 3 spots on their chart simultaneously since The Beatles in 1964 with her three thank u, next singles. While "7 rings" is atop the chart for the fourth week, her follow-up single, "break up with your girlfriend, i'm bored" debuted at the No. 2 spot and the album's title track rebounded from No. 7 to No. 3. Grande's big accomplishment makes her just the second to do so in the chart's 60-year history. The Beatles previously earned the honor for five weeks in March and April 1964, claiming the entire top five tier on the April 4, 1964-dated chart.
Once Grande received wind of the news, she told her Instagram followers that she was in complete disbelief. "i laughed when i saw this bc i thought y'all edited it. thank u from the bottom of my heart. for so many reasons. first time since the beatles huh (and first time for a solo artist?)," she captioned a photo of the latest chart tally. "that's wild. i thought this was a joke when i saw it i'm not kidding. i love u. so much. always have n will. thank u for everything. i cant believe this is real fr. thanks for making history w ya girl today. and for making me feel loved. bye crying."
Over the weekend, the chart-topper also celebrated the 20-month sobriety of her brother, Frankie Grande. "been staring at this drafting n deleting bc everything i write makes me cry. jus know i think you're a superhero and u make me v proud. everyone knows how hard this is and how strong you've been. congratulations and thank god," she tweeted.

Keith Allen
I am born and raised in Michigan but love the Triad. I was sold as soon as I heard no snow, well very little snow I should say! I enjoy all kinds of music, sports, and playing with my two children Madison and our dog Beau!! Thank you to everyone...
Read more