Did Meek Mill Throw Shade At Nicki Minaj During Feud With Michael Rapaport?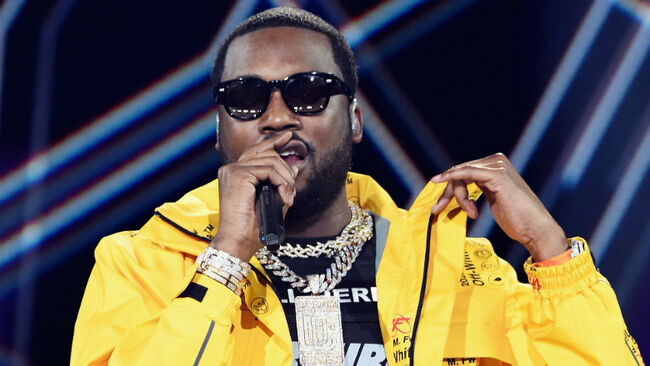 Nicki Minaj has somehow found herself in the middle of Meek Mill's beef with Michael Rapaport.
Over the weekend, the 48-year-old comedian decided to call Meek out on Instagram following the "Going Bad" rapper's performance on Sunday (February 17) at the NBA All Star game. Michael slammed Meek in a number tweets, saying he raps off beat, has "no flow," and he even dragged Meek's now squashed 2015 beef with Drake into the conversation. (Now this is where things get interesting.) For Meek's response, he used photographic evidence to strengthen his clapback, as he recalled the first time he met Micheal at basketball game, claiming Michael was too happy to ask him for a selfie years ago. "Me: ayo yo who this? Anonymous: I think it's the guy from white men can jump? Him: meek you so fire you give me that feeling what hip hop is missing ima fan "can I get a selfie"? Hurry up go head 🤦🏾‍♂️," Meek captioned the photo. While at first, Meek's clapback seemed innocent enough, it wasn't until Michael responded by sharing the full photo, which showed that Meek Diddy cropped (When you crop someone out of a picture so smoothly that people don't even realize that it was a cropped photo) his ex-girlfriend Nicki out of the picture he shared. "All Hip Hop Bloggers & Culture Critics Who Know all about Hip Hop but have Know Idea who Sparky D is, not one of you is on my level with any of this sh*t," Michael captioned the photo that showed him smiling next to then-couple Nicki and Meek.
Immediately fans began speculating about Meek possibly shading Nicki by not only cropping her out of the photo, but calling her "anonymous" in his tweet about meeting Michael. "Meek you cancelled ahhhkayyy how dare you refer to Nicki as Anonymous," one fan wrote on The Shade Room, who shared the cropped and not cropped photos to Instagram. A second fan commented, "She Would've Done It Too... Where's The Foul?"
As fans know, Meek's alleged shade came a month after the "Ganja Burn" rapper literally stopped her show in Australia to call Meek out, interrupting her hit "Barbie Dreams." Right after she rapped the lyric "Meek still be in my DMs, I be having to duck him," she told the DJ to "hold on," pausing the music, and she rapped the line again with emphasis. Nicki then proceeded to tell the audience: "I mean, I could tell you secrets but I won't, 'cause being a bitter bi*ch is what I don't."
Meek didn't waste any time responding to his ex's threat, issuing a warning of his own. "Why you be sooo mad at me and not the people that came right at ya neck! I'm cool I'm doing good lol something is wrong here," he wrote. "Leave me alone you know I get a lil too out of control with the truth!" Meek concluded his response with, "Keep it classy."
Nicki and Meek called it quits back in January 2017 after two years together. While it's been years since the former couple was an item, the Philadelphia-born rapper recently revealed that his ex blocks him on social media — the first sign that there was bad blood between the two, at least on Nicki's end. 
Photo: Getty Images

Keith Allen
I am born and raised in Michigan but love the Triad. I was sold as soon as I heard no snow, well very little snow I should say! I enjoy all kinds of music, sports, and playing with my two children Madison and our dog Beau!! Thank you to everyone...
Read more